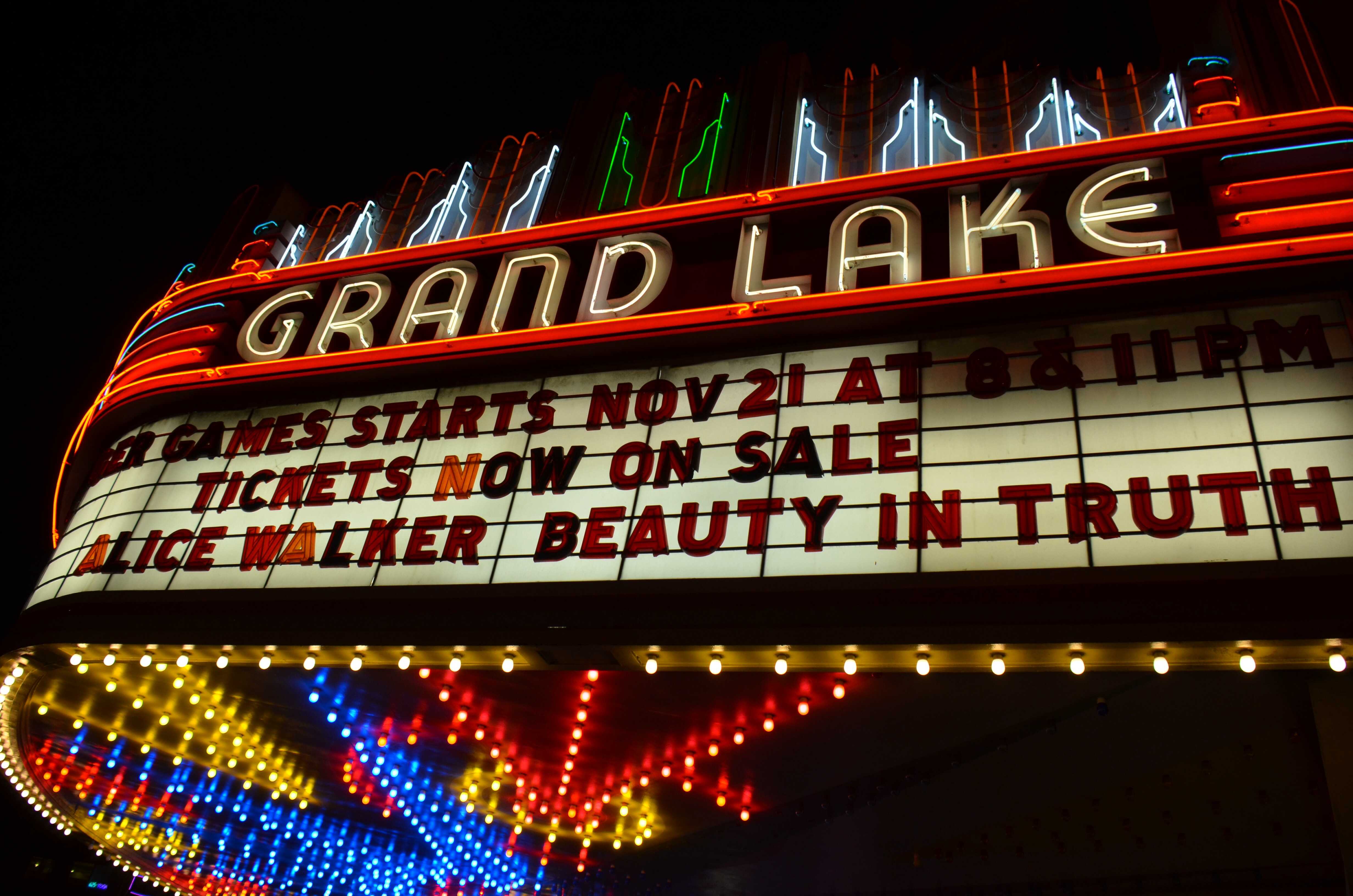 Celebration Time!
November 18th, 2013, exactly a year ago today, marked the OAKLAND, CALIFORNIA PREMIERE of ALICE WALKER: BEAUTY IN TRUTH.
Pratibha Parmar and Shaheen Haq of Kali8 Productions and Kin Folkz of SPECTRUM QUEER MEDIA were the unstoppable team and sole organizers of this sold event and screening at the aptly named Grand Lake Theatre in Oakland.
The film's Executive Producers, Regina K Scully and Geralyn Dreyfous brought the gift of Geena Davis, Executive Director of the 'Geena Davis Institute on Gender Studies' who introduced the film to the audience as well as discussing the importance of positive representation of women and girls on the screen. Geena went on to introduce Alice Walker and Pratibha Parmar to the audience.
By invitation of Pratibha Parmar, award-winning filmmaker Ava Du Vernay, of the forthcoming film SELMA, took time out from her busy schedule to chair the after film discussion with Alice Walker and Director Pratibha Parmar.
Thank you, Pratibha, Shaheen and Kin Folkz, the magic TEAM of THREE, with an army of dedicated volunteers who worked tirelessly, putting the event together in under 3 weeks and were rewarded by the long lines of folks outside the Grand Lake Theatre where the sold out screening became etched into Oakland's herstory.
U.S BROADCAST DISTRIBUTION
Kali8 Productions' established relationship with Susan Lacy, the then Executive Producer of the PBS AMERICAN MASTERS series, assured the nationwide airing of BEAUTY IN TRUTH on this prestigious and prime time slot. The airdate of 7th February 2014 coincided with a celebration of Alice Walker's 70th Birthday on February 9th, as well as kicking off the BLACK HISTORY MONTH series on PBS.
U.S THEATRICAL DISTRIBUTION
Currently there are no plans for the Theatrical distribution of our film in the U.S.
Kali8 Productions and Kali Films are NOT in distribution with any company in the U.S.
GLOBAL SCREENINGS AND SPECIAL EVENT SCREENINGS
Stay tuned for exciting news about our Special Celebratory screenings across the US and Globally in 2015.
U.S Festival Runs
Shaheen Haq of Kali Films has coordinated over 150 film festival screenings of BEAUTY IN TRUTH both domestically and globally and continues to do so.
EDUCATIONAL DVD
We are excited and pleased to announce the launch our Special Edition Educational DVD.
Suitable for universities, libraries, and other educational institutions, the ALICE WALKER: BEAUTY IN TRUTH Educational DVD contains the following:
• Full Version of Film
• Video Q&A with Director
• Audio of Alice Walker Reading a poem
• Viewing & Discussion Guide
Academic Guide for Higher Education, which includes:
• Two lesson plans, "Literature as Activism" and "Womanism"
• Bibliographic timeline
• The Work & Life of Alice Walker PowerPoint
Price: $375.00 + shipping
To order the Educational DVD, click here.
For questions, email info@kalifilms.com
For questions, email shop@kalifilms.com.